Security awareness
10 best security awareness training vendors in 2022
With growing recognition of the importance of security awareness training toward mitigating cyber threats and building strong security cultures, organizations are increasingly turning toward security awareness programs to help educate their employees.
However, with so many different security awareness and training vendors out in the market, it can be difficult to know which partner is not only the best fit for your organization's needs, but has the experience and depth needed to support your learning goals. So how can you narrow down your options and find the best security awareness training partner?
Here are three key things to consider as you evaluate security awareness vendors:
Do they provide a comprehensive, one-stop-shop solution for your specific security awareness and training needs? For example, do they provide engaging training that resonates with employees, simulate and monitor phishing campaigns, and assess your security culture over time?
Can they deliver automation and integration capabilities to streamline your security awareness training efforts and weave them into your existing learning and professional development initiatives?
Are they focused on the "learner experience" with automated updates, easy-to-navigate dashboards, a breadth of content and visibility on each employee's learning trajectory?
Read on to get the answers to those questions and learn more about some of the top security awareness training companies. And don't forget to download your free security awareness training report, The Forrester Wave™: Security Awareness and Training Solutions, Q1 2022, for even more expert insight.
Infosec IQ security awareness training
Infosec IQ security awareness training focuses on three key pillars: learner engagement, human risk management and exceptional customer service.
Infosec IQ security awareness training includes thousands of resources, each supporting a module that itself is tied to the NIST guidelines. Resources include:
You can also use the Infosec IQ platform to assess your organization's cybersecurity culture across five areas: confidence, trust, responsibility, engagement and outcomes. IT leaders can then use the results to help define which of Infosec IQ's fully built campaign kits to leverage to increase employee engagement and learning or even choose from a customizable security awareness program plan. For example, you can choose from hundreds of customizable phishing templates, begin an automated phishing test, and then easily conduct analysis through PhishNotify™ and PhishHunter™.
Customer reviews of the Infosec IQ platform highlight how engaging and creative the content is as well as the quality of the dedicated client success team that assists with implementation. Through My Dashboards, clients also receive robust, pre-built and ad-hoc reporting options. IT leaders also highlight the ease of integrating the Infosec IQ security awareness training platform with their larger endpoint protection ecosystem to enroll learners if a security event is detected tied to their device.
Infosec offers a FREE personalized demo of the Infosec IQ security awareness training platform. Click the link to get started.
KnowBe4 security awareness training
KnowBe4® is a well-established security awareness training platform with a large breadth of unique and engaging content available in 34 languages. KnowBe4 also has several unique tools that give your organization the ability to provide more real-time and targeted training. For example, KnowBe4 recently acquired the SecurityAdvisor platform, which helps to flag a user's insecure behavior in real-time.
KnowBe4 also offers a comprehensive phishing awareness tool suite that includes its Phish Alert Button (PAB) for email reporting and analysis and the PhishER™ orchestration center. With this feature, your organization can use PhishML™, which uses machine learning to assess suspicious emails, or PhishRIP™, to quarantine messages via a Microsoft and Google integration. You can also use KnowBe4's PhishFlip™ to turn a real phishing message into its own simulated phishing campaign.
Learn more about KnowBe4.
Proofpoint security awareness training
The Proofpoint® security awareness training platform is known for its threat-based approach to its training. For example, through its Targeted Attack Protection (TAP) offering, Proofpoint allows users' email security and threat intelligence training paths to be tailored based on how likely they will be targeted.
Other key Proofpoint security awareness training products include:
ThreatSim®: A simulated phishing platform, including the ability to target SMS messaging

PhishAlarm®: An integrated user feature to report phishing attempts

Proofpoint Threat Intelligence: A tool that scans emails for threats, including the URLs and attachments, in a sandbox to validate malicious content

CISO Dashboard: Provides a visual overview of your organization's training progression and performance
Proofpoint's training is also available in 41 languages, allowing your organization to be globally inclusive when creating and rolling out its education programs.
Learn more about Proofpoint.
Cofense security awareness training
Cofense®, a large and established provider of a simulated phishing platform, is known for its products' extensive application integrations that provide security professionals with real-time phishing and email security behavior.
Cofense security awareness training provides organizations with its Triage™, AutoQuarantine and PhishMe® tools, which help add extra security controls to existing security appliances and email gateways, including Microsoft environments.
In particular, the Cofense Triage Community Exchange allows your organization to crowd-source phishing email analysis and threat intelligence while Cofense Vision® provides you with the ability to auto-quarantine phishing threats.
Its security awareness training, known as Cofense LMS, provides an extensive content library developed in partnership with Ninjo, focusing on phishing and email security topics.
Learn more about Cofense.
SANS security awareness training
SANS™, an organization well known for its industry-leading training programs and a large user community, provides both free community resources and tailored learning tracks, including a mature security awareness module.
SANS also offers more than 150 cybersecurity training tools created by SANS instructors and a larger course library covering a broad range of security topics across a variety of content delivery methods and languages.
Learn more about SANS.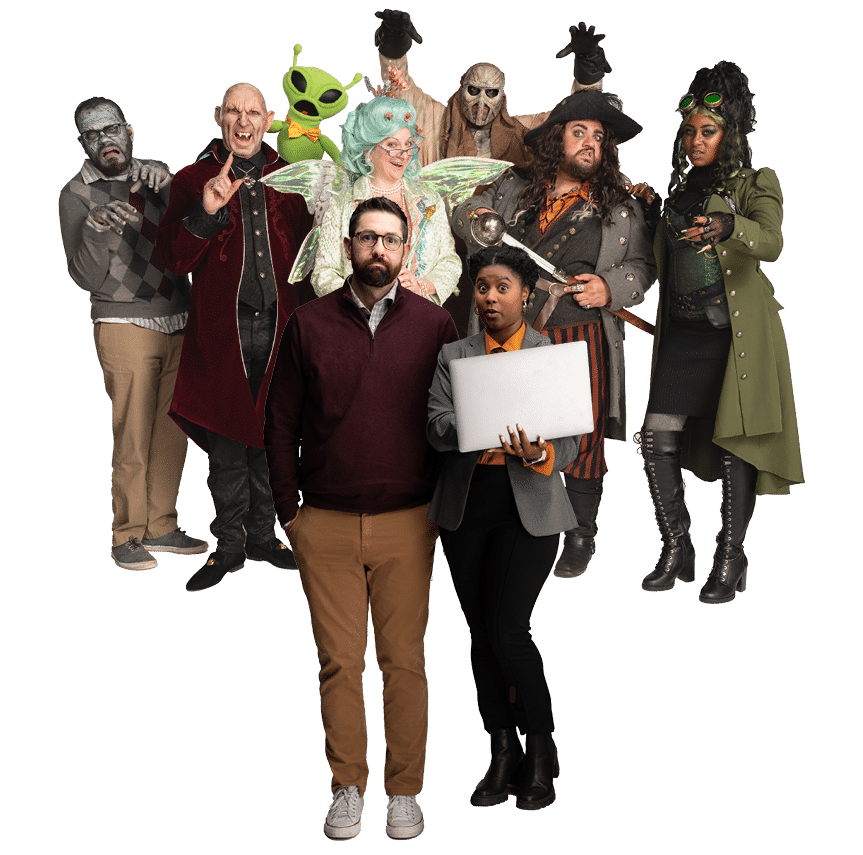 Free training resources

Reinforce cybersecurity best practices with six eye-catching posters found in our free poster kit. These posters showcase characters from our newest comedy series: Work Bytes!
CybSafe security awareness training
The CybSafe security awareness training platform empowers organizations through its native behavioral analysis and risk quantification capabilities. For example, your organization can use the CybSafe platform to collect user behavioral data and compare it against more than 70 different security behaviors to help identify, prioritize and mitigate risk.
With its in-house behavioral science team, Cybsafe is a great partner for organizations looking for training that focuses on changing user behavior versus just implementing tools and security products to block phishing attempts.
Learn more about CybSafe.
Living Security security awareness training
The Living Security® Unify security awareness training platform uses a human risk scoring system that focuses on learner performance. With roots as a content- and experience-driven vendor, Living Security can deliver a large breadth of training material, including:
Videos

Assessments

Computer-based training

Interactive puzzles

Simulations

Gamification of security topics, such as virtual escape rooms
Living Security also provides organizations with communications and marketing materials to help raise awareness of security topics and encourage engagement.
Learn more about Living Security.
Elevate Security security awareness training
The Elevate Security® security awareness training platform focuses on user behavior and building a strong cybersecurity culture. It's one of the first training vendors to utilize behavioral science to help organizations quantify their security risk and develop a training program for remediation.
Through its Pulse platform, cybersecurity training isn't centered on traditional learning, but on a behavior-driven monthly scorecard that monitors user risk with tailored actions that can be taken to reduce their risk. Elevate Security is also able to easily integrate with hundreds of enterprise and security solutions so more data can be used to assess user and organizational risk.
Learn more about Elevate Security.
Terranova Security security awareness training
The Terranova Security® security awareness training program is known for providing each user with their own Cyber Hero Rating, a system designed to provide each learner with their own risk score and training profile.
Terranova Security is also focused on helping organizations provide a more tailored learning experience that also is diverse, inclusive and accessible. Terranova Security's security awareness training content is also available in 40 languages.
Learn more about Terranova Security.
Mimecast security awareness training
The Mimecast® security awareness training offering, known as the MimeOS Platform, includes a wide range of services and tools for your organization to use to educate and mitigate cyber risk. Its security awareness tool, Mimecast AT, offers complete managed services for awareness training.
Mimecast's training is known for its witty, quick and engaging training modules, each of which lasts about three minutes. Each training introduces familiar characters, Human Error and Sound Judgment, and uses humor to help raise awareness about security topics and explain complex elements through a technique known as micro-learning.
Mimecast's solutions are also able to easily integrate with organizations' enterprise email security solutions. This allows your organization to utilize security tools like SAFE Phish, which turns real phishing emails into simulated testing templates, and SAFE Score, to provide users with individualized risk scores based on:
Sentiment

Engagement

Knowledge

Human error
Learn more about Mimecast.
Choosing the right security awareness training
Still unsure which security awareness training providers to put on your shortlist? Download your free copy of The Forrester Wave™: Security Awareness and Training Solutions to discover how Forrester Research, Inc., scores these security awareness solutions against its own 30-criterion evaluation.
If you prefer to speak with someone directly about your security awareness training options, book some time with an Infosec representative to get your questions answered.