Professional development
How VetsInTech and Infosec Laid the Path to Gaurav Panta's New IT Career
Life has a funny way of guiding people through their professional journeys, but for Gaurav Panta, military veteran turned cybersecurity professional, he still found his way.
So what's the secret recipe behind Panta's success?
A healthy dose of hard work, mentorship, and training – and support from VetsinTech (VIT). Or, in his words, "Yes, it may look like it's hard to get in, or it may scare you, but don't give up on your dream."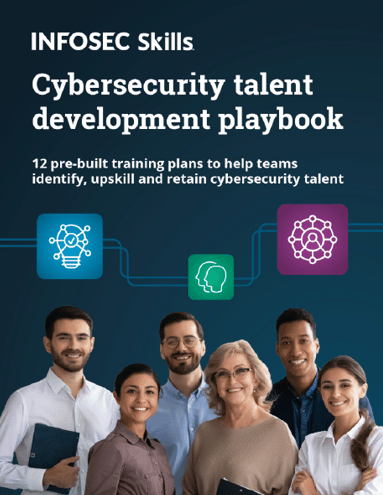 FREE role-guided training plans

Get 12 cybersecurity training plans — one for each of the most common roles requested by employers.
Fulfilling his national service
Long before enlisting in the U.S.military, Panta would just explore his interest for computers, computer science, and coding, wondering if he could turn it into a long-term career.
"Even before I joined the military I was dabbling on the computer, doing a little bit of just learning how to do C++ and Java," reflects Panta. "Then after I graduated from community college, I ended up joining the military, serving as a wheel vehicle mechanic for nine years."
During the last year of Panta's enlistment period, he discussed his plans and interests with a mentor and that's when he first learned about VetsinTech.
VetsinTech (VIT), which supports our current and returning veterans with reintegration services and connects them to the national technology ecosystem, is committed to bringing together a tech-specific network, resources and programs for our veterans interested in education, entrepreneurship and employment. 
Rekindling a love of technology
VIT ended up being a perfect fit for Panta, allowing him to build his formal foundation in computers and cybersecurity. First, with VIT's help, Panta targeted Infosec's CompTIA Security+ certification boot camp, which prepares graduates with a solid basis of understanding in cybersecurity and prepares them for the exam.
"Everything I learned, I learned through the training and the boot camp that came from VetsinTech, and the instructor that the Infosec boot camp provided," notes Panta, "Using the study material they gave me, I spent almost 10 days in a row reading it and prepping for the exam, and I was able to pass it the first time."
Earning the Security+ certification boosted Panta's confidence and motivated him to continue. In fact, fast forward another three months and Panta ended up earning another certificate from the EC Council, Certified Ethical Hacking (CEH). The CEH is another certification with a scenario-based exam focusing on helping IT professionals evaluate and protect network and computer security vulnerabilities. 
"So the key to opening the door and getting the certificates was a combination of VetsinTech and the Infosec bootcamp."
A fast upward trajectory
Armed with his certifications, Panta was able to enter into a six-month technology internship as a help desk technician, sponsored by the U.S. military program a few months later. 
"I worked as a tier two desktop support technician; Any client's computer or printer, if there is an issue with it, it'll come to us, and I will get a portion of a ticket, and it was my job to troubleshoot and fix it."
This internship experience, combined with his formal training, then allowed Panta to accept a full-time career in the industry, also as a tier two desktop support, supporting the U.S. Department of Defense. In fact, according to Panta, the first question they asked was, "Okay, where's your Security+?" And, in his words, thanks to VetsinTech, Panta was able to land that job.
"Do I think I'd be in the same place without doing the program? Honestly, no. VetsinTech really gave me the opportunity because VIT funds that training."
Advice for aspiring IT professionals
Panta is now working hard toward his next goal, which is to become a Chief Information Security Officer (CISO) or Chief Information Officer (CIO), in the next 10 years. 
To motivate himself and others, Panta has advice for those considering a transition from the military to a career in IT: "My advice to them would be don't give up. Yes, it may look like it's hard to get in, or it may scare you, but don't give up on your dream," says Panta, "But once you get in the door and once you start working, things will just start to click."
Panta encourages others to continue to push themselves and stick with it and, ultimately, after a few months, things will be a lot easier and smoother as you start working with the industry.
Whatever is next for Panta, it is clear that he has the right training, experience, and, most importantly, the right mindset for a successful career in IT and cybersecurity.