CompTIA Security+
How to pass the CompTIA Security+ exam: Tips & resources
The CompTIA Security+ certification is a pivotal stepping stone to help you establish your cybersecurity career. Developed by CompTIA, it assesses your proficiency in a wide array of security-related domains and technologies. The certification is vendor-neutral, meaning it does not focus on specific products or solutions, making it an ideal starting point if you seek a broad foundation.
Though it's considered entry-level for cybersecurity, the exam is not easy to pass without preparation. In this comprehensive guide, we navigate the intricacies of the CompTIA Security+ certification, discuss its significance and outline a strategic approach to how to pass the CompTIA Security Plus exam.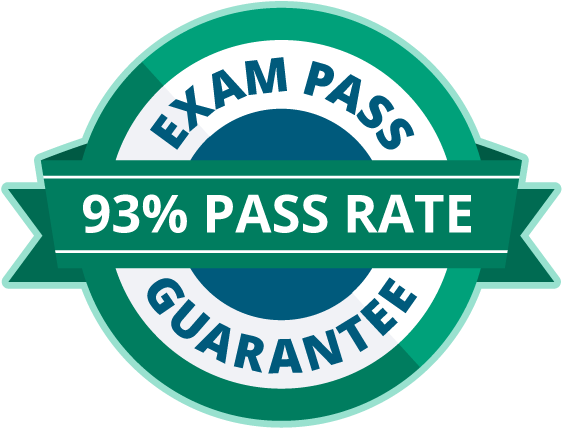 Become a SOC Analyst: get Security+ certified!

More than 47,000 new SOC analysts will be needed by 2030. Get your CompTIA Security+ to leap into this rapidly growing field — backed with an Exam Pass Guarantee.
Understanding the
CompTIA Security+ exam
The CompTIA Security+ certification exam, SY0-601, verifies your knowledge and skills across various domains. It's a comprehensive evaluation validating your ability to tackle modern security challenges like network security, identity and access management, cryptography, threat detection and more.
The exam format blends multiple-choice questions with performance-based scenarios, testing your theoretical understanding and capacity to apply that knowledge in practical situations.
With a time limit of 90 minutes, the exam comprises a maximum of 90 questions. You pass the CompTIA Security+ exam with a score of at least 750 out of 900. The exam blueprint covers an array of crucial security domains. The current domains and their weight in the exam are:
Attacks, threats and vulnerabilities (24%)

Architecture and design (21%)

Implementation (25%)

Operations and incident response (16%)

Governance, risk and compliance (14%)
As an entry-level cybersecurity certification, it's perfect for IT professionals with limited experience and those transitioning to cybersecurity from other IT roles. While there are no strict prerequisites for taking the exam, having around two years of hands-on experience in an IT role with a security focus is recommended. This experience can significantly enhance your ability to comprehend and master the concepts covered in the exam.
Preparation strategy
If you lack the recommended experience or need a refresher, comprehensive, expert-designed training like the CompTIA Security+ Boot Camp is an excellent resource. However, there are other ways to tackle the challenge of how to pass the Security+ exam.
Kick off your journey by crafting a study timeline that aligns with your availability and commitments. Establish a consistent routine of focused study hours daily, then set a concrete exam date in advance. A set deadline can be a potent motivator, pushing you to stay on track.
Identifying your learning style is vital. Determine whether you thrive with textbooks, interactive labs, online courses, video tutorials or a combination of resources. Tailoring your study materials to suit your learning preferences optimizes how you absorb critical concepts.

Study resources
To pass the CompTIA Security+ exam, an eclectic mix of resources ensures holistic coverage. Each resource contributes a distinct perspective, enriching your overall understanding of the subject matter. Here are some options to help map your plan:
Free: Books, study guides and free and self-study materials are a great place to start if you want to learn how to pass the Security+ exam. You can also learn directly from the overseer of the cert with Patrick Lane's webinar and ebook.

On-demand and self-paced: Materials like training videos, practice exams and labs that test hands-on skills help you curate learning on your time. The go-at-your-own-pace Security+ training from Infosec is an affordable way to gain over 22+ hours of training from an authorized provider and is perfect for busy professionals.

Boot camps: Try a program like a five-day Security+ Boot Camp for intensive instruction that prepares you fast. Infosec boot camps include live, expert training you can access from anywhere, online or in person. It comes with an Exam Pass Guarantee and everything you need, from exam vouchers and books to practice exams and labs.
Study tips
Determine a study structure by acquainting yourself with the exam outline and topics before you dive in. Work step-by-step to comprehend core concepts with methods like hands-on practice rather than forcing rote memorization. Regularly revisiting material reinforces memory retention, so return to each domain until you have a solid grasp. To prevent burnout, integrate regular breaks into your study sessions to maintain focus and productivity.
Practice exams
Practice exams are invaluable tools to gauge your knowledge and exam readiness. These simulations replicate the exam environment, familiarizing you with the format and the pressure of time constraints. Using strategic practice exams lets you identify weak areas that require further attention.
Taking practice exams based on single-domain subjects is a good first step. Once you've mastered each domain area, take full-length practice exams to ensure you are ready for the CompTIA Security Plus exam experience. Taking a few Security+ free practice exams helps pinpoint which domains you should focus further studies on. Reputable organizations like Infosec Institute offer high-quality practice exams to aid your prep.
CompTIA has free practice questions and paid Security+ simulation questions. Paid courses like the one taught by Mike Meyers in Infosec Skills include practice exam questions and hands-on Security+ labs.
You can also find previous exam takers who share notes and training resources in online forums. Be mindful of using Security+ exam dumps with questions from the actual exam, as CompTIA warns this is considered cheating.
Another way to boost your exam practice is by reviewing Security+ flashcards and Security+ cheat sheets.
Exam-day tips
As the exam day approaches, engage in high-level reviews of each domain to refresh your understanding. On exam day, prep early to minimize stress and allow time for unexpected tech or other issues.
During the exam, expect performance-based, simulated environments that test your ability to solve problems. While tackling questions or instructions, read each item meticulously and rely on your practice pace to manage your time. If necessary, use the option to flag questions for review.
Use these Security+ exam tips to clear your mind and stay focused during the exam:
Be aware of time. During the exam, you may reach a high concentration level, often referred to as "the zone." This greater focus is good for problem-solving but can make you lose track of time. What may seem like seconds can be minutes passing quickly, so make sure you stay focused and aware.

Take your time. Even with limited time, don't force yourself to rush. Pay attention to each question and answer option and ensure you fully understand it. Words such as MOST, LEAST, NOT, ALL, NEVER and ALWAYS can subtly affect meaning. Watch for distractors (obviously false options) in multiple-choice questions and quickly eliminate them.

Try to relax. Remember to stretch, relax your muscles and breathe mindfully during the exam. A relaxed mind can help you solve difficult questions.

Don't panic. Remaining calm will improve your concentration. If you followed your study plan, your results will likely be great. If you don't pass, you have more experience for the next try!
Post-exam
Celebrating your success after passing the CompTIA Security+ exam is just the beginning. Update your professional profiles, such as your resume and LinkedIn, to showcase your achievement. Capitalize on the certification to explore job roles such as security analyst, network administrator or IT auditor. Continue learning and consider advancing to certifications like Certified Information Systems Security Professional (CISSP) to elevate your career trajectory.
Embarking on the journey to CompTIA Security+ certification requires commitment, planning and a strategic approach. By understanding the exam structure, selecting appropriate resources, adopting effective study techniques and harnessing the power of practice exams, you set yourself up for success. This certification validates your expertise and ushers you into a world of exciting possibilities. Here's to your success on the path to mastering the CompTIA Security+ certification!
For your convenience, here are direct links to the resources mentioned: